Important Announcement (January 2023)
On January 30, 2023 and January 31, 2023, payments were reissued via Interac e-Transfer to class members that did not cash their e-Transfer payment sent in October/November 2022.
A copy of Interac e-Transfer is duplicated below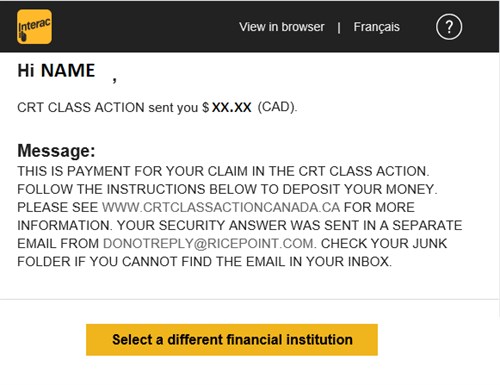 When you applied for settlement benefits, you were asked to answer one of five security questions:
What is your mother's maiden name?

What was the name of your first pet?

What city were you born in?

What was your childhood nickname?

What is the name of your favourite band?
Unless you have registered for automatic deposit of e-Transfers through your financial institution, your answer to that question is needed to deposit the e-Transfer into your account. An email was sent on January 27, 2023, from [email protected] containing your answer. If you cannot find the email, please check your junk folder. If you enter the wrong answer four times your payment will be locked.
Between November 2018 and March 2019, class members were able to apply for settlement benefits. Payments to approved class members were delayed as a result of certain class members appealing the outcome of their claims and a re-adjudication of certain claims.
Payments to approved class members started on October 28, 2022. All cheques were mailed on October 31, 2022. Initial Interac e-Transfers were sent in batches between October 28, 2022 and November 18, 2022.
A previous distribution was made to class members who were entitled to the minimum payment of $20 regardless of the outcome of class member appeals.
What is a CRT?
A CRT (cathode ray tube) is a display device commonly used in televisions and computer monitors.
Who can receive a payment from the settlements?
Persons resident in Canada (individuals, businesses and governmental entities) can receive a payment from the settlements if they
purchased any of the following products, regardless of the manufacturer or brand, in Canada between March 1, 1995 and November 25, 2007:
■
CRT televisions
■
CRT computer monitors
■
CRTs for inclusion in televisions or computer monitors
You must complete and file a claim form by March 1, 2019.
How much money will I receive?
Payments will be distributed on a proportional basis, based on the value of your claim relative to the value of all approved claims.
It is anticipated that all claims will receive a minimum payment of $20.

Claims will be valued based on three variables:
CRT Purchases
1
The dollar amount of CRT Products purchased.
Value of CRT
2
The value of the CRT within the CRT Product.
Categorization
3
The purchaser's position within the distribution chain.